SERVICES PROVIDED BY TRIMBLE STUDIOS
Trimble Studios works with a wide variety of glass types and processes to deliver a comprehensive menu of art glass products and services.
LEADED ART GLASS
Leaded Art Glass is a broad generic description of all forms of art glass assembled with lead or other metals such as zinc, brass, or copper foil. Stained glass is frequently identified with the imagery associated with religious installations. Art Glass is work produced with the same basic techniques, but without the religious imagery. The various colors and textures of glass are a result of the chemicals used in the manufacture of the glass. It is the artist's job to select, cut and fit the sheets of glass into the many smaller pieces that make the completed work.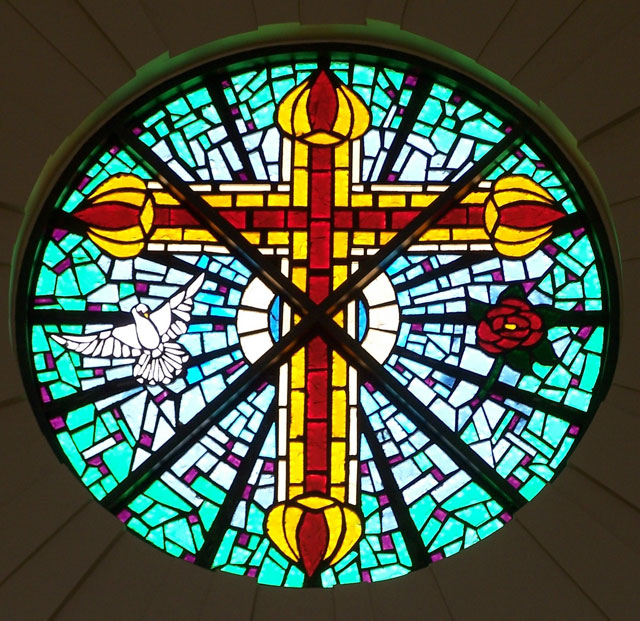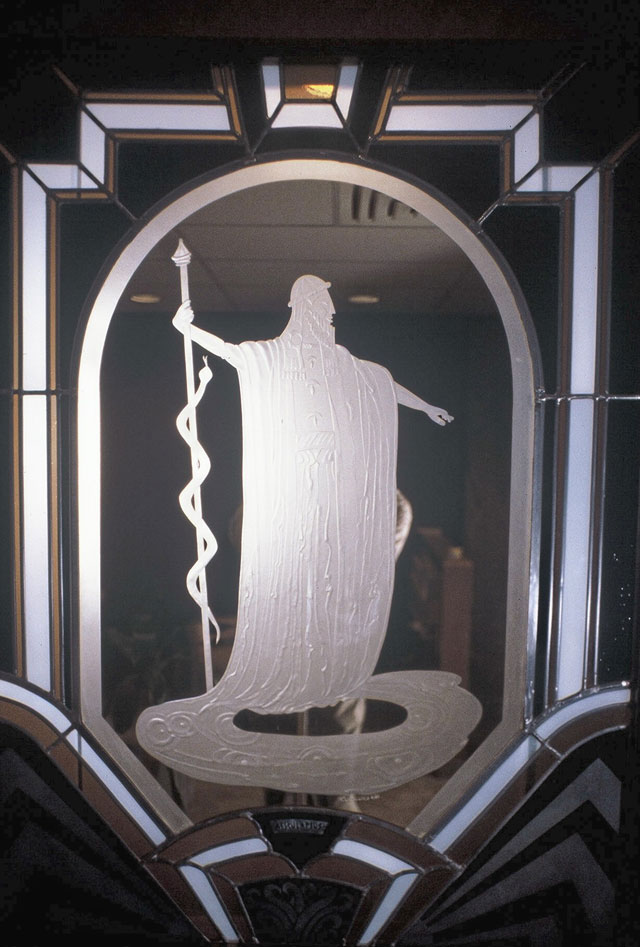 FACETED GLASS
Faceted Glass is made from glass that is approximately 1″ thick and is usually produced in slabs that are eight inches wide by 12 inches long. The glass is either broken with a hammer and anvil or cut with a diamond brick saw, much as one cuts tile flooring. Another term used for this product is "dalle de'verre" which is simply the French term for "slab of glass." The glass is cut to a pattern, laid out on a table, and epoxy resin is poured around the individual pieces of glass. This forms a very strong bond to the glass and results in a very stable, solid unit for installation. The facets in the glass are made by striking the edge of the glass so as to form a series of chips or facets in the edge of the glass. This adds a striking brilliance to the finished work. This is most often used in religious designs, but has applications for residential or commercial use as well; especially in more contemporary designs.
FUSED GLASS
Fused Glass is made from layers of colored and or clear glass assembled into a design and placed into a kiln where it is heated to between 1200 and 1400 degrees. At this temperature, the glass and its color or other components melt or fuse together. Once fused, the glass is cooled in a controlled manner over a long period of time so as to become "annealed." This keeps it from cracking and self destructing. This can be a very dramatic design concept and deserves far more consideration than it usually receives. This is likely because of a general unfamiliarity with the process.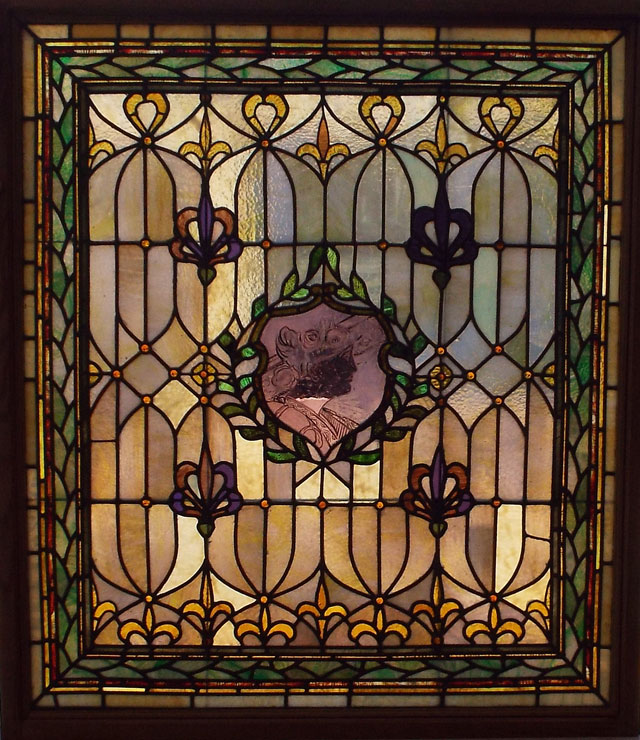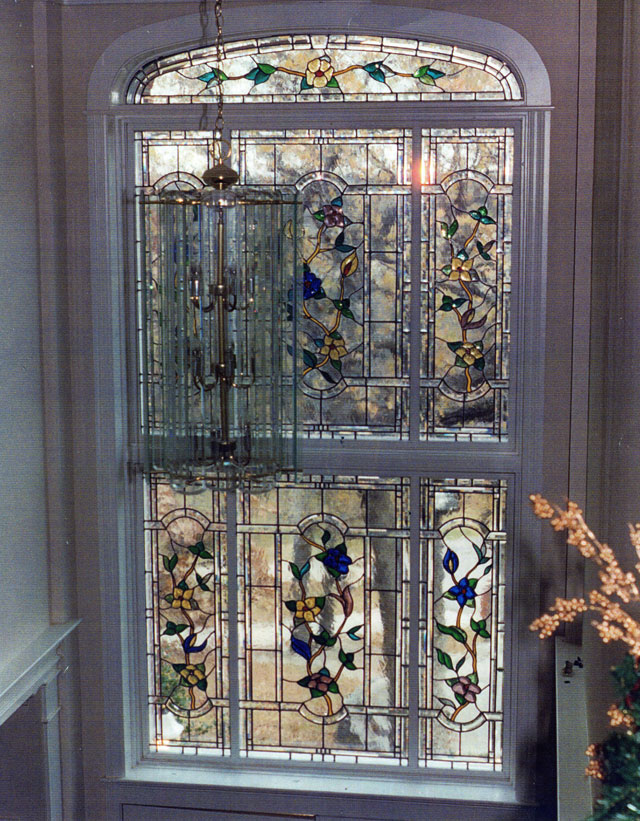 BEVELED GLASS
Beveling is a process where the edge of the glass is shaped at an angle (beveled) around the perimeter of a piece of glass. This produces a prismatic effect which, under the right lighting, can cast a myriad of colors into a room. At the very least, the finished product creates an exciting, crystal or jeweled image that is comparable to "cut crystal." It is considered the "Queen" of art glass processes. Stock bevels are available to reduce the cost and are usually made from 3/16″ thick plate glass. Custom beveled glass is usually made from-1/4″ plate glass. It takes more time and is more expensive, but the results are worth the expense if you are willing to invest in the effect of the steeper bevels and the brilliance it provides. The finished product has the greatest beauty and a first impression that counts and counts and counts again.
SAND CARVED GLASS
Sand Carving is a process of carving images into the surface of plate glass. This is accomplished by applying a "resist" material onto the surface of the glass and cutting the design into the resist to conform to the pattern of the final image. The next step is to remove the individual pieces of resist one at a time and sandblasting the shape and depth of each piece in a controlled sequence to produce the desired final image. It is a highly skilled procedure that can result in very dramatic imagery. The applications for this product are limited only by your imagination.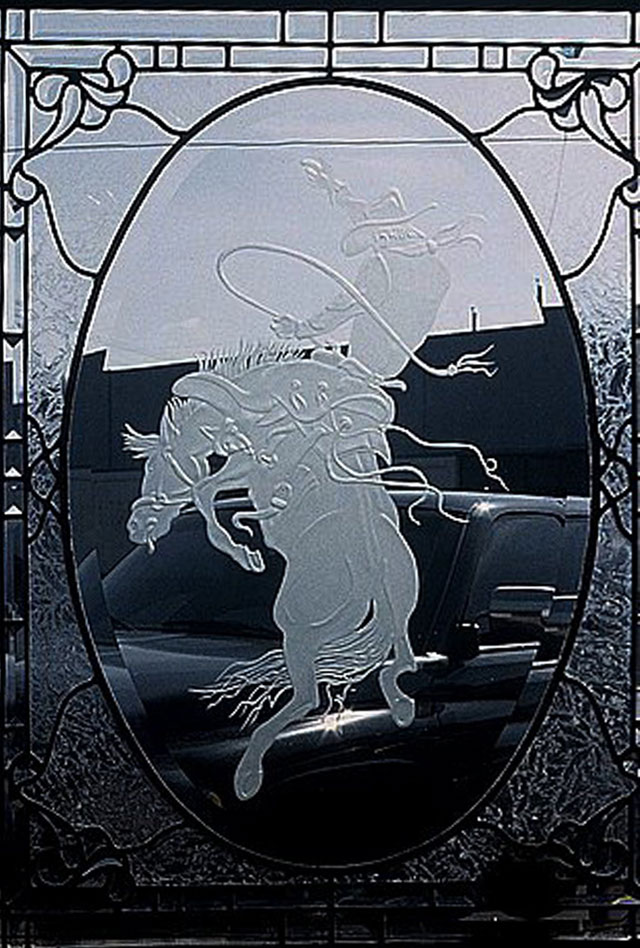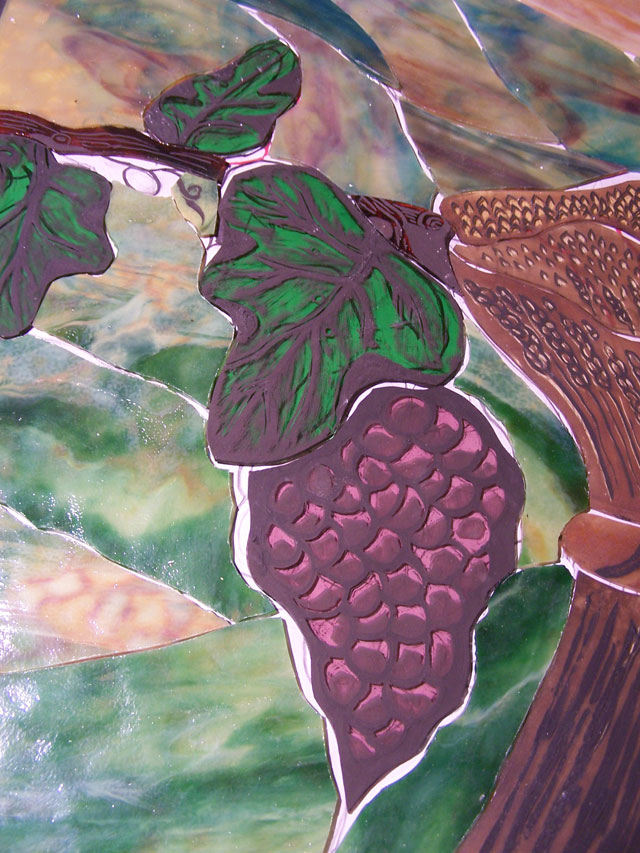 KILN FIRED GLASS
Kilm Fired Glass includes"fused glass" noted above. It is a broader term that covers a wide range of techniques. Bent glass lampshades are an example of this technique. Painted glass imagery, such as one sees in figurative religious works are also a form of kiln work. Custom made bowls, plates, etc. are also a part of the range of kiln fired glass as is a wide range of jewelry. It is often incorporated into sculptural works to enhance the visual impact.
CONTEMPORARY, NON-FIGURATIVE SCULPTURE
We have a good selection of completed sculptural pieces available and are open to commissions of this nature. Our work is composed from various metals, stone, glass, and other items that are compatible with a contemporary design concept. There is a strong affinity with the "Art Deco" period, but no direct attempt to copy that style. I describe the design concept as "Nouvo Art Deco."
CUSTOM METAL WORK
There are several examples shown here on the website. Copper Lanterns, Wrought iron gates and balcony railings, and, most dramatically, the steel and glass chandelier that is from our commission for the Cunov residence in Coppell, Texas. There is an interesting history and story about this project. I'd be glad to share it with you.
BENT GLASS & CABINET GLASS
We can provide replacement bent glass panels for your antique cabinets or for your new custom made furniture.
GLUE CHIP
Glue Chipping is a process of applying hot liquid animal hide glue to the sand-blasted surface of a sheet of glass. As water evaporates from the glue, it shrinks and tears off the random, frost-like pattern to which it was applied. Designs can be achieved by controlling the areas that are sand-blasted and leaving a smooth surface which is not affected by the glue.
AND MORE
We have a wide range of skills and capabilities which are not enumerated above. If you have an idea or a concept that intrigues you or you are having trouble finding some one to assist in the realization of your idea, give us a call. We are open to exploring new ideas and techniques.
CONSULTATION
We frequently consult with architects, designers and contractors, as well as individual clients about concepts early in the design stage of a project. The end results are enhanced because the entire project in conceived and designed as a whole when we are brought into the project when it is at or early in the concept stage. This can avoid costly modifications or change orders to the structure. There is never a charge for an initial consultation. Depending on the scope of the project, there may be a fee for taking a concept to a completed, working design ready to be fabricated. This fee is separate from the cost of fabricating and delivering the product.
REPAIRS
We do repairs to leaded glass in any form. Our process removes, for instance, a leaded front door panel or sidelight, from its opening, usually taking it to my studio, and accomplishing the repair. The panel is then returned to its opening. We do not usually attempt to do "on site" repairs. That process lifts up the face of the lead and cutting a piece of glass smaller than the opening for the piece that was broken. The new glass is installed into the opening and the lead is folded back over the edge of the new glass which is, then, barely covered by the lead. Putty is then forced around and under the face of the deformed lead. It is usually very obvious that a "patch" has been done rather than a repair. My method provides a "repair" rather than a "patch." Normally, you cannot tell that the repair has been done.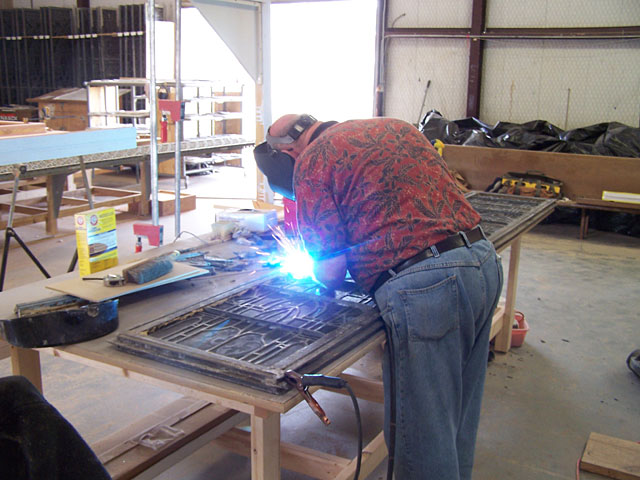 WARRANTY
In all but the most unusual circumstances, I give a 3 year warranty on all my work.